11 nonprofits shaping the future of farming
Where? U.S.
Focus: GreenWave is supporting a new generation of ocean farmers feeding the planet and building a blue-green economy in the era of climate change.
Who should we know about? Check out GreenWave's feature story here focusing on 3D ocean farming, their Farmer-In-Training program, and Catherine Puckett, a lifelong mariner who is now incorporating seaweed on her ocean farm on Block Island, Rhode Island.
Where? Washington, U.S.
Focus: Viva Farms empowers aspiring and limited-resource farmers by providing bilingual training in holistic, organic farming practices, as well as access to land, infrastructure, equipment, marketing and capital. Together, they preserve sustainable farming by creating a strong and just local food system.
Who should we know about? Matthew Cioni and Giana Wakim moved from Vermont to Washington to launch their farm at Viva's land-based farm business incubator in the Skagit Valley in the fall of 2014. Starting on one acre, they have now expanded to nearly seven, selling much of their produce to restaurants, food coops and other natural food stores. They've also developed a small farm-to-school market, which they hope to expand in the coming years. "Herbs have become our favorite crops to manage," they say. "If you give them a little, they will give back a lot. We also love that our herbs attract many beneficial insects to our farm, which is a very important component of our pollination and pest control. Not to mention, when they are flowering, they are all so beautiful and aromatic!" This year, Giana is full time on the farm, with Matt hoping to join her in 2020.
When asked about the origin of their farm name, The Crows Farm, they say that it "came to life because we love crows." In addition to being an affectionate nickname among their friends, Matthew and Giana explained that: "The crow is also one of the most intelligent and thoughtful birds. They have amazing communication and problem-solving skills, and they look after each other. We love nature and wanted to include a part of that in our name."
Where? Pennsylvania, U.S.
Focus: Rodale Institute has been dedicated to growing the organic movement through research, farmer training and consumer education for over 70 years. Headquartered on a 333-acre certified organic farm in Kutztown, Pennsylvania, they conduct groundbreaking research that has influenced the organic movement across the globe.
Who should we know about? Justin Barclay is a six-year U.S. Army veteran who completed tours in Afghanistan and Germany. Justin acts as the Veteran Programs Manager for Rodale Institute, serving as a point of contact for veterans coming to the farm to learn about organic agriculture. The Veteran Farmer Training Program at Rodale Institute helps military veterans find new careers in organic agriculture by providing hands-on experience.
Veteran trainees grow organic produce, handle livestock, run machinery and more. As a veteran who lives on his own horse farm, Justin understands how connecting with the environment can help ground veterans returning to civilian life. The veteran-to-veteran relationship that Justin establishes with the trainees is essential to supporting the success of the program and of the participants. Veterans can continue to serve by becoming the next generation of organic farmers, utilizing the skills they learned at Rodale Institute. Initiatives like the Veteran Farmer Training Program underscore the benefits an organic system can have for the people working within it. An organic farm isn't just growing food, it's growing connections between people and the land.
The National Young Farmers Coalition (Young Farmers)
Where? U.S.
Focus: The National Young Farmers Coalition is an advocacy network of beginning farmers, ranchers, and supporters working together for a brighter, more equitable future for U.S. agriculture. They tackle the most critical structural and economic issues preventing young people from succeeding in farming and ranching, such as access to land, credit, skilled labor and health insurance, as well as structural racial injustice, climate and student loan debt challenges.
Who should we know about? Earlier this month, one of their member farmers, Liz Brownlee from Nightfall Farm in Crothersville, Indiana, testified in front of Congress on the proposed USDA Economic Research Service (ERS) and National Institute of Food and Agriculture (NIFA) relocation. Liz said, "I need to be on my farm, running my business. That's why I'm a member of Young Farmers—they amplify my voice in D.C., and work with Department of Agriculture agencies to improve policy."
Watch Liz's full testimony here. To support the Coalition and ensure young farmers can make their voices heard, visit youngfarmers.org/give.
Sustainable Harvest International
Where? Belize, Honduras and Panama, Central America
Focus: Sustainable Harvest International (SHI) preserves the environment by partnering with families to improve well-being through sustainable farming.
Who should we know about? Iris Meza Pérez and her family, living in the small, rural Honduran community of Santa Cruz del Dulce, are well into their five-year journey with Sustainable Harvest International's program. For the past couple of years, Iris has worked alongside SHI's local staff to learn and implement regenerative agriculture practices on her family's land. This process is transformative! Not only does this mean increased biodiversity and healthier soils for generations to come (like for her daughter Roxana) but also increased control of and access to food and nutrients for her family. Since working with SHI, Iris has completely replaced her purchased food supply with homegrown produce from the garden and fields. As she puts it, "We used to buy all our food in the market, But now we have a market right here."
Where? New York, U.S.
Focus: Harlem Grown inspires youth to lead healthy and ambitious lives through mentorship and hands-on education in urban farming, sustainability and nutrition. Founded in 2011, they operate 11 local urban farms, increase access to and knowledge of healthy food for Harlem residents, and provide garden-based development programs to Harlem youth.
Who should we know about? Farmer-transitioning-to-mentor, Jai'Andre Young. He shares, "I am pleased to be a part of the Harlem Grown team as a farmer transitioning into a mentor. I've always loved working and volunteering for nonprofit organizations that focus on helping communities and its people. I've known about Harlem Grown for a few years, as I volunteered close with them as a member of the Harlem Justice Corps (HJC). The HJC focuses on helping criminal justice involved youth with services like employment training and educational programs. We worked closely with Harlem Grown in many service projects and contribute to their mission. After a year of finding myself lost as a result of HJC being discontinued, I was very fortunate enough to gain an opportunity at Harlem Grown.
Who would have thought running into longtime friend, Tony Hillery in Grand Central Terminal after almost two years would change my life? Being a part of this amazing organization will help me and propel me to my career goal of being a mentor for many other young people in life who may be lost or stuck. I believe everyone needs a helping hand, and thankfully with the help of Harlem Grown, I can fulfill my dream."
Where? Global
Focus: Soil Association's vision is good food for all, produced with care for the natural world. Working with farmers, policymakers and citizens to help build a better, more sustainable world, they campaign for healthy, humane and sustainable food, farming and land use.
Who should we know about? Policy & Strategy Director, Joanna Lewis, was inspired to leave her Sustainability role in the U.K. government for the Soil Association in 2006 to coordinate and grow our Food for Life initiative. Food for Life is about giving every child the opportunity to cook, grow, eat and value real food. We have since helped over 10,000 schools and other public settings to make two million meals a day healthier, higher welfare and more sustainable.
Her passion is reversing climate change while simultaneously restoring nature to our farmed countryside and health to our food system. The devastating United Nations global assessment of biodiversity and land degradation this year has shown how vital it is to make farming work for nature and the soil, as well as the climate. The groundbreaking Ten Years for Agroecology in Europe model from French research institute IDDRI has shown we can phase out pesticides and intensive farming and still feed a growing population a healthy diet, while halving climate impact. For her, leading policy for the Soil Association is such a privilege because everything we advocate is rooted in solutions, which connects us with a much wider movement of citizens, farmers, caterers and school leaders who can make change happen on the ground.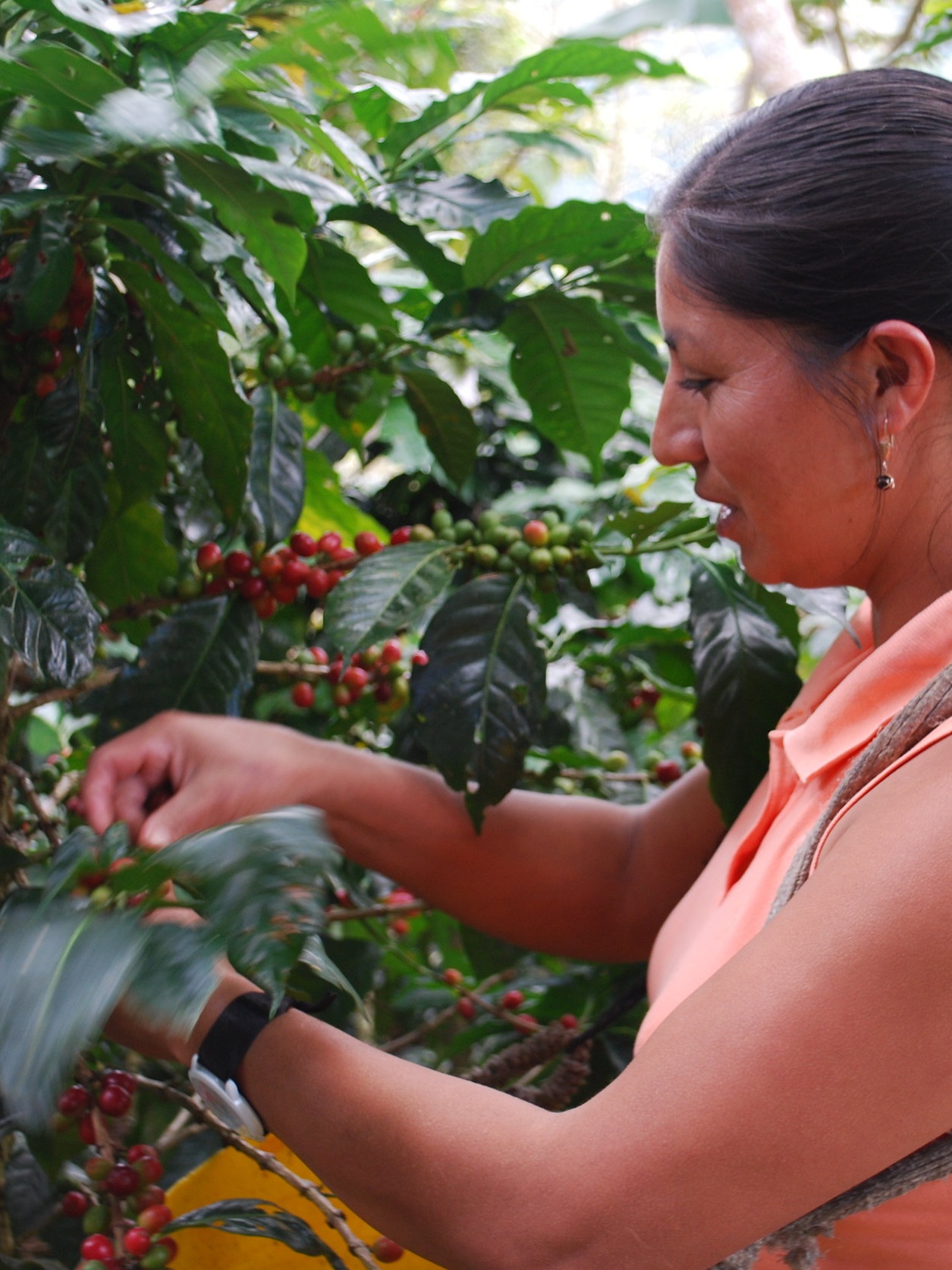 Where? Latin America, Sub-Saharan Africa, Southeast Asia
Focus: Root Capital invests in the growth of agricultural enterprises so they can transform rural communities.
Who should we know about? Dora Lisa Carrión Gómez is the head of the women's group of APROCASSI, a coffee cooperative in Northern Peru. After checking in on the women's group's cafe in the morning, she heads to the coffee farm she inherited from her parents, where she works until sunset. She then returns to the cafe at peak evening hours, often staying until 11p.m. or midnight. Among all of this, she still finds time to raise her young son.
APROCASSI supplies women-produced coffee to large, U.S.-based coffee brand. The coffee brand pays the women's group an additional $10,000 per container—a premium that Dora Lisa and her team have invested in projects that benefit the entire community, such as a small store that sells necessary provisions and nutritious food at an affordable price.
Root Capital began financing APROCASSI in 2004 with a $92,000 loan. Over the last 13 years, we have supported APROCASSI's substantial growth with more than $15.8 million in cumulative financing, as well as tailored advisory services on topics like financial planning, accounting and cash flow management. "Women have always been discriminated against," says Dora Lisa. "But when I joined APROCASSI in 2006, I saw this new reality. A reality where women could work, could advance. A reality where women could have power." Read the full story here.
The Edible Schoolyard Project
Where? U.S.
Focus: The Edible Schoolyard Project is dedicated to transforming the health and wellness of children in the Bay Area and beyond. By designing hands-on experiences in our garden, kitchen and cafeteria they connect children to food, nature and one another. At the heart of an Edible Education is a dynamic and joyful learning experience for every child.
Who should we know about? Angela is leading the design of an organic school food procurement framework that will enable school districts throughout the state of California to provide free, sustainably grown meals that are procured from farmers and ranchers who treat the land and their workers with respect and are served in dining environments that teach the values of nourishment, stewardship and community.
Before joining the Edible Schoolyard Project, Angela served as the Director of Innovation and Strategy with San Francisco Unified School District's Future Dining Experience, where she oversaw a $20 million bond focused on redesigning the school food system of San Francisco. She is also a 2016-2017 Stanford University Civic Innovation Fellow. Angela is focused on creating an equitable, student-centered, financially stable meal systems that prompt participation and provoke joyful eating. Angela holds a Master's in Food Studies from New York University, and serves on the board of Educate2Envision International, a nonprofit that invests in youth from underserved areas to be their own innovators in tackling poverty.
Where? U.S., the U.S. Virgin Islands and Puerto Rico
Focus: Worldwide Opportunities on Organic Farms USA (WWOOF-USA) is part of a worldwide effort to link visitors with organic farmers, promote an educational exchange and build a global community conscious of ecological farming practices.

Who should we know about? Maggie and Ben are former WWOOFers turned host farmers and operate Green Light Farm, an organic flower farm in Northwestern Wisconsin.
Following graduation, Maggie visited farms through the WWOOF program and discovered a love for the physical and mental work that farming offers. Ben had also become increasingly interested in agriculture and traveled to visit farms in Ecuador, Wisconsin and Iowa. The two met while working on an organic vegetable in Wisconsin and decided to put down roots of their own.
They run Green Light Farm and grow cut flowers for weddings, events and for local florists. WWOOFers who visit get to learn hands on about flower production, greenhouse seeding and transplanting and growing and harvesting vegetables. They also educate visitors about food preservation and green building construction and have hosted WWOOFers from around the world.
To learn more about diverse opportunities on over 2,000 host farms across the USA, visit https://wwoofusa.org.
Where? Vancouver, British Columbia

Focus: Sole Food Street Farms transforms vacant urban land into street farms that grow artisan quality fruits and vegetables, available at farmers markets, local restaurants, and retail outlets. Their mission is to empower individuals with limited resources by providing jobs, agricultural training, and inclusion in a supportive community of farmers and food lovers.

Who should we know about? Each year, Sole Food Farms employs up to 20 people who are experiencing complex barriers to mainstream employment such as mental illness, addiction or material poverty. Sole Food's "mission staff" make up 70-80% of Sole Food's workforce and participate in every aspect of the farm's operations including seeding, harvesting, post-harvest processing, market sales and restaurant sales. In 2019, Sole Food embarked on a collaboration with an adjacent social housing complex to provide employment opportunities for residents, improve housing for mission staff and create opportunities for shared social events, workshops and training.